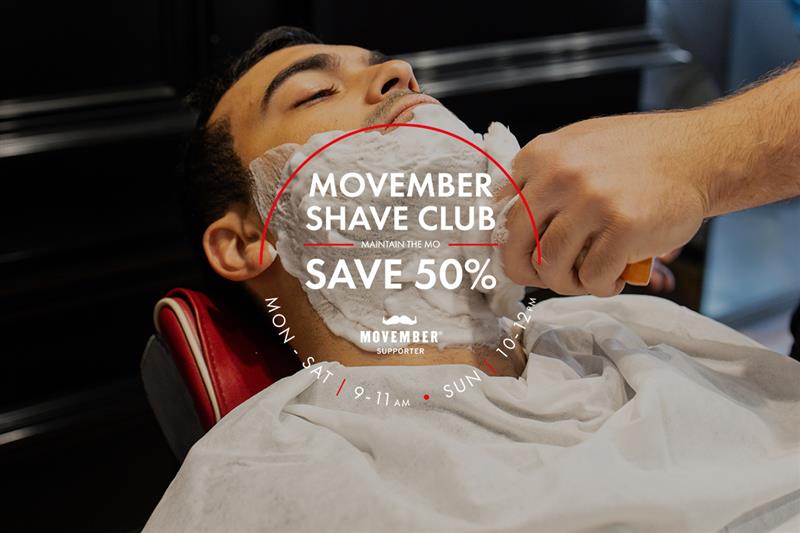 November is here! Once again, we are excited to welcome the month of the 'Mo'. It's that time of year where we put our razors away and let those 'staches run wild for a great cause. We are ready to raise awareness and show our support for men's health issues in style!
Getting you 'Mo-Ready'
Visit us in the first two hours of trading as we are offering you a chance to 'shave' big on your morning grooming routine. Whether you need to shave your beard, trim down or maintain your moustache, you can enjoy a 50% OFF throughout the month of November.
We get it – growing a moustache can be challenging. That's why our talented team of barbers are here to help you groom and style your 'staches to perfection.
Together, We Mo've forward
We invite all of our clients and supporters to join us in raising funds and awareness. By donating, participating, or simply spreading the word, you can be a part of the 'Mo'vement and make a real impact.
To donate, you can do so through this link: Movember Donation Link.
We are here to support you in your Movember journey, one trim at a time!
T&Cs apply:
50% off "Mo-Ready" offer replaces the Shave Club offer and applies to the Tommy 'n' Turkish service only.
Valid at all Ted's Grooming Room stores.
Valid Monday-Saturday: 9-11am and Sunday: 10am – 12pm.
Canary Wharf stores: Monday-Friday 9-11am and Saturday-Sunday: 10am-12pm.
Tower 42: Monday - Saturday 9-11am.
Offer cannot be used in conjunction with any other offer and is only valid on full-price services.