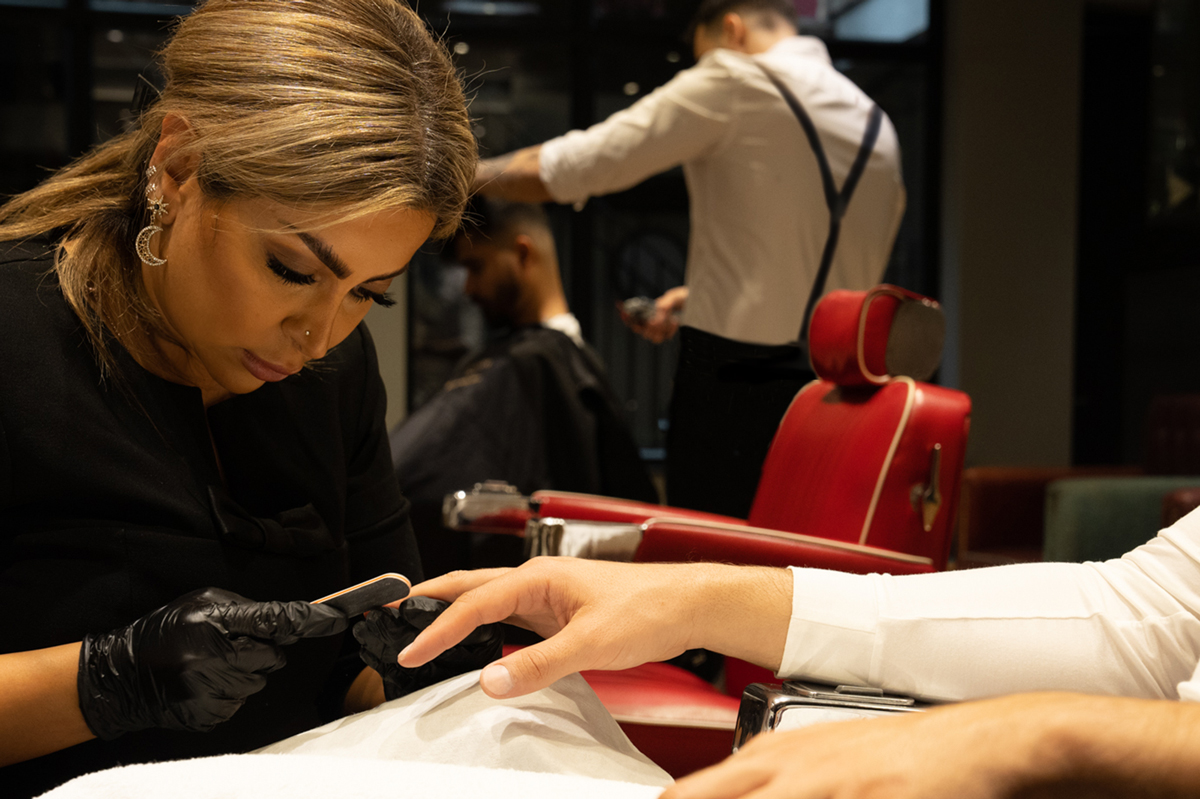 Introducing our new "NAILED ON" manicure treatment
Here at Ted's Grooming Room, we pride ourselves on giving the most impeccable shaves and hair treatments that tailor to your every grooming need. It's the foundation of our Traditional Turkish routes where we create the standards for male grooming.
That's why we are launching our new "Nailed On" service which delivers the most sort after manicure for your hands and nails. Grooming doesn't just stop with your hair these days, you also need well-manicured hands to compliment your trim.
The reason behind it all
Manicure? We hear you say, well, for vast majority of men, there is still a stigma around going to get a manicure. But we don't believe this to be because you don't like the idea of having well-groomed nails, after all, you visit us because you like to present yourself in a certain well-kept manner. No, we believe that there isn't an environment in which men feel comfortable enough to walk-in and ask for one. Until now, that's why we want to break down these barriers and offer you a service which you deserve in a place you can enjoy.
What is included in the "Nailed On" treatment?
Our talented manicurist is the master of her craft, she will explain each step for a satisfying experience. But, the highlights are as follows:
Clipping nails: Nails are shortened to your desired length with a nail clipper. Ideally, the square shape is recommended because rounding the nails may cause ingrown nails.
Smoothing the edges: While clipping the nails, it usually leaves them with an uneven edge. Using a nail file or a nail block, the edges is gently filed so they are soft and smooth.
Soaking the hands: One hand is soaked in water, at least 5 minutes to soften the skin and the cuticles.
Applying cuticle remover: A small amount of cuticle remover rubbed over the top of the nail to soften the skin and make it easier to remove. Then, a cuticle pusher is used to push back the dead skin and removed using a cuticle scissors.
Buffing: Nails can develop ridges that give them an uneven surface. Using a sponge buffing block to gently buff the nails so they are smooth and even.
Hand massage: When your nails are properly filed and buffed, moisturising the hands, nails, and cuticles by applying a hydrating hand cream is important. While rubbing the hand cream into the hands, massaging takes place as it helps boost circulation to your fingers and hands.
Cuticle Oil: The final step of the treatment includes the application of cuticle oil, which will help increase the circulation and stimulate the growth of strong nails.
Where can I get this treatment?
This treatment is currently available downstairs at our Mortimer Street location so, if you are looking to find everything under one roof, you can head over to our Mortimer Street branch to experience the new "Nailed On" service.
After your treatment, you will soon feel at ease!