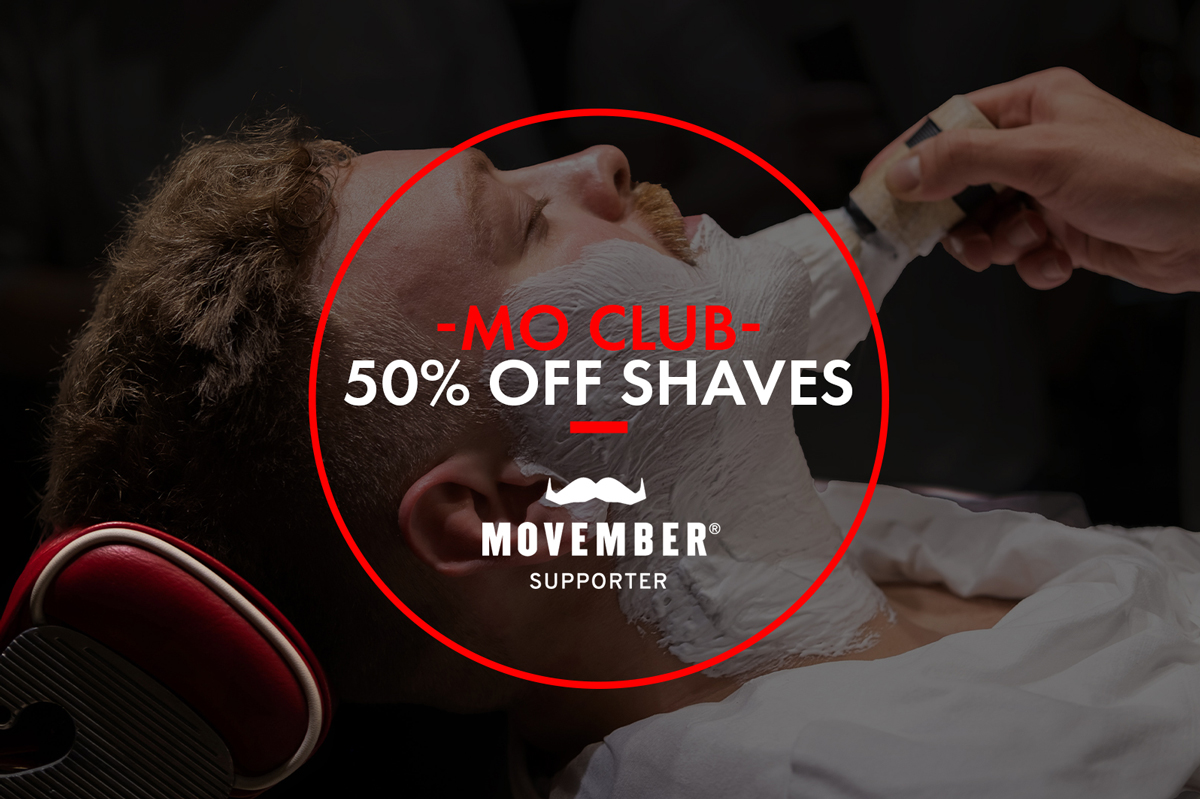 The beauty of Movember is not only the perfect excuse to grow the moustache of your dreams for the entire month of November, but more importantly to raise awareness and funds for men's health issues, including mental and physical health. When it comes to our health, men don't talk, don't act, and die too young. So, together with our Mo Bros and Sistas, we continue to support Movember to make a change and support men for the better!
Over the past years, we have seen some spectacular moustache styles during Movember including the The Gun Slinger, The Connoisseur and the always magnificent Walrus!
To get involved:
You'll need to have a fresh start by saying goodbye to your facial hair with a smooth clean shave.
Choose a moustache that will grace your face and let your Mo grow for 30 days!
Learn to be patient, especially for the first two weeks, it might often itch and feel different but be confident – it's key!
You are not allowed to touch your moustache, but a slight touch-up is okay. Always keep your beard clean-shaven to show off your perfect Mo.
Most importantly, let your face raise funds.
We've created a 'Mo-club'! Just for you.
Ted's master barbers are here to guide you through this Movember to grow a perfect Moustache. Whether you need to shave your beard, trim down or maintain your moustache, we will be offering a 50% off with our "Mo-Club" treatment for the first two hours each day, from 1st – 30th November.
How can you help change the face of men's health?
By contributing as little as £2 after each treatment, helps the development of therapies, diagnosis, and inventions for cancer as well as mental health projects to save lives. For the whole of Movember we will automatically add the contribution to each treatment, unless you decide to opt out. All proceeds will go to Movember. Without you, it's impossible!
T&Cs apply:
50% off "Mo-Club" offer replaces the Shave Club offer and applies to the Tommy 'n' Turkish service only.
Valid at all Ted's Grooming Room stores.
Valid Monday-Saturday: 9-11am and Sunday: 10am – 12pm.
Canary Wharf stores: Monday-Friday 9-11am and Saturday-Sunday: 10am-12pm.
Tower 42 and Cheapside stores: Monday - Saturday 9-11am.
Offer cannot be used in conjunction with any other offer and is only valid on full-price services.